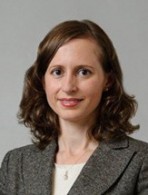 Senior Associate University Counsel
(860) 486-5796
lesley.salafia@uconn.edu / International Employment – Visa Sponsorship
Lesley Salafia serves as a Senior Associate University Counsel to the University within the University's Office of the General Counsel. She serves as the signatory authority and provides legal analysis, preparation and review of employment-based nonimmigrant visa petitions (e.g. H-1B, O-1, TN, E-3, etc) and permanent residency cases on behalf of the foreign national faculty and staff at the University of Connecticut.  She also provides legal services in connection with other issues and initiatives at the University.
Before joining the University, Lesley was an associate in the Hartford office of the law firm Shipman & Goodwin LLP.  There, she served in the immigration and employment litigation practice groups, representing employers throughout the nonimmigrant and immigrant visa process and handling claims of employment discrimination, wrongful termination, sexual harassment and wage violations.  She has represented clients in State and Federal Court, including the U.S. Court of Appeals for the Second Circuit, and before the Connecticut Commission on Human Rights and Opportunities ("CHRO"), the Equal Employment Opportunity Commission ("EEOC"), the Department of Labor, and before arbitration panels.  Lesley has also represented clients in immigration matters before the U.S. Board of Immigration Appeals, and the U.S. Board of Alien Labor Certification Appeals.
Lesley is actively involved in the Connecticut Chapter of the American Immigration Lawyers Association and is the chair of the Connecticut New Members Division.  She has been selected one of Connecticut's Rising Stars 2009 by Super Lawyers Magazine. Attorney Salafia graduated with honors from the University of Connecticut School of Law and received her Bachelor of Arts degree, Summa Cum Laude from Tulane University in New Orleans, Louisiana.