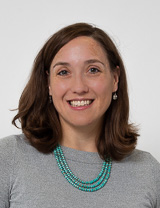 Senior Associate Healthcare Counsel
(860) 679-1114
Danielle Ives serves as an Associate Healthcare Counsel within the Office of the General Counsel.  She provides legal services and advice in connection with the diverse issues affecting UConn Health.
Prior to joining UConn Health, Danielle was an international trade compliance attorney at Wiggin and Dana LLP.  She has also practiced employment law and served as a law clerk to the Honorable Vanessa L. Bryant in U.S. District Court for the District of Connecticut.
Danielle earned her J.D. from the University of Connecticut School of Law, with high honors, and received her B.A. from Yale College.