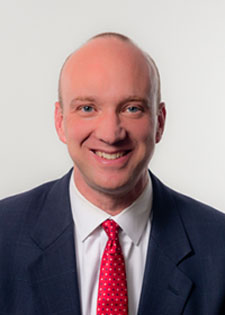 Chief Counsel
(860) 679-1114
Scott Simpson serves as Chief Counsel within the Office of the General Counsel at UConn Health.  In this role, Scott is responsible for providing strategic legal advice and coordinating the delivery of legal services in all areas of law affecting UConn Health. He also oversees UConn Health's clinical risk management initiative.
Prior to joining UConn Health in 2016, Scott served in the United States Navy Judge Advocate General's Corps, where he advised Naval Commanders on an array of legal issues, including military justice, administrative investigations, and ethics issues. He was also a trial attorney at the Naval Submarine Base in New London, Connecticut.
Scott has also worked in both operational and investment roles in the technology industry.
Scott earned his J.D. from the University of Connecticut School of Law, with honors, and received his A.B. in History, magna cum laude, from Harvard College.