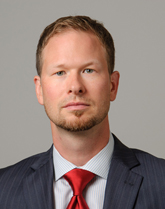 Senior Associate University Counsel
(860) 486-5796
Nathan ("Nate") LaVallee serves as Senior Associate University Counsel to the University within the Office of the General Counsel. He provides legal services and advice in connection with the many issues affecting the University.
Nate has spent more than a decade working in the public law sector and most recently served as Associate General Counsel for the University of Massachusetts, where he handled the full range of higher education issues. Nate has represented municipal and state agencies in a variety of legal matters, including the handling of claims involving employment discrimination, wrongful termination and sexual harassment. Nate has extensive experience in public-private partnerships, including urban redevelopment projects. Nate also serves as a part-time lecturer at Manchester Community College.
Nate earned his Bachelor of Arts degree, cum laude from Albertus Magnus College and graduated from Western New England University School of Law.