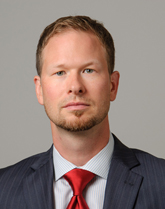 Deputy General Counsel
(860) 486-5796
Nathan ("Nate") LaVallee serves as Deputy General Counsel to the University within the Office of the General Counsel. He provides legal services and advice in connection with the many issues affecting the University.
Nate has spent more than 16 years working in the public law sector and has primarily served as in-house counsel to New England's two largest public flagship universities. Nate has extensive experience in regulatory compliance, legislative initiatives, and other higher education legal matters including FERPA, student discipline, NIL, and public record laws. He also has experience creating and executing critical university strategies, agreements, and transactions necessary to address key business issues. He often presents locally and nationally on topics concerning higher education.
Before joining UConn, Nate was Associate General Counsel for the University of Massachusetts, where he handled the full range of higher education issues. Nate has also represented municipal and state agencies in a variety of legal matters in State and Federal Courts as well as before state commissions and other regulatory bodies.