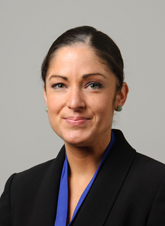 Attorney
(860) 486-5684
jessa.mirtle@uconn.edu@uconn.edu
Office of Faculty and Staff Labor Relations
Jessa Y. Mirtle is a Labor Relations Associate within the University's Office of Faculty and Staff Labor Relations. She also serves as an Attorney within the University's Office of General Counsel. Jessa assists the University in all labor relations functions, including the administration of collective bargaining agreements, and provides legal analysis, review and advice on employment and labor law matters affecting the University.
Prior to joining the University, Jessa practiced as a staff attorney for the City of Waterbury, where she handled a range of employment-related issues, with a focus on workers' compensation litigation. Jessa began her legal career as a Clerk for the Honorable Bethany J. Alvord of the Connecticut Appellate Court.
Jessa received her B.A. in sociology, with honors, from Trinity College, where she was awarded the Departmental Award for Excellence in Sociological Studies. Jessa received her Juris Doctorate degree, with honors, from the University of Connecticut School of Law, where she was the Notes and Comments Editor for the Connecticut Insurance Law Journal.