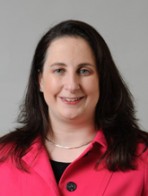 Attorney
(860) 486-5684
Office of Faculty and Staff Labor Relations
Kelly L. Bannister is a Labor Relations Associate within the University's Office of Faculty and Staff Labor Relations. She also serves as an Attorney within the University's Office of the General Counsel. Kelly assists the University in labor relations functions, including the administration of collective bargaining agreements, and provides legal analysis, review and advice on employment law matters affecting the University.
Prior to joining the University, Kelly practiced labor and employment law as an Associate with the Pennsylvania law firm Buchanan Ingersoll & Rooney, PC. There, she represented employers in labor and employment matters in judicial and administrative forums and arbitration, as well as provided legal advice on human resources and employee relations issues. Kelly began her legal career as a Clerk for the Honorable F. Herbert Gruendel of the Connecticut Appellate Court.
Kelly received her B.A., magna cum laude, in political science and economics from the University of Connecticut and her J.D. from the University of Pennsylvania Law School, where she was a Senior Editor on the Journal of Labor and Employment Law and a member of the Moot Court Board.