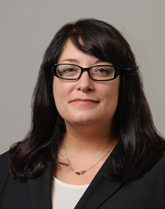 Attorney
(860) 486-5796
Erin Beatty serves as an Attorney to the University within the Office of the General Counsel. She provides legal services and advice in connection with the many issues affecting the University.
Before joining the University, Erin was in private practice in New York and West Virginia, where she concentrated her practice in the areas of labor and employment and education law. As a certified Title IX investigator, Erin has investigated (individually and as part of a team) and advised on the investigations of alleged sexual misconduct on college campuses and in public schools. Erin also has a background in employment-related investigations, including matters of discrimination, harassment, and occupational safety and health, and she has represented clients in state and federal courts and before administrative agencies. Erin began her career in the public sector, working as an Attorney Advisor for the Federal Mine Safety and Health Review Commission in Washington, DC.
Erin earned her B.A., cum laude, from Saint Michael's College in Vermont and her J.D. from the Syracuse University College of Law, where she served as Associate Notes Editor of the Syracuse Law Review and Articles Editor of The Labor Lawyer.